Meine Zeit in Belfast ist nun bald vorbei. Mein Rückflug ist schon eingecheckt. Bald wird der Koffer gepackt. Einerseits freue ich mich schon sehr auf Berlin. Andererseits weiß ich auch, dass es viele Aspekte von Belfast gibt, die ich vermissen werde.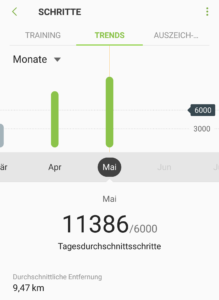 In Belfast kann man zum Beispiel alles erlaufen. Die Stadt ist so klein, dass es sich eigentlich nie lohnt in den Bus oder ähnliches zu steigen. Das kann man auch sehr gut an meiner Schrittstatistik nachverfolgen. Im April und Mai bin ich durchschnittlich 9-10 km pro Tag gelaufen. In Berlin liege ich bei 3-5 km…
was ich auf jeden Fall nicht vermissen werde, ist meine Unterkunft. Mit jedem Tag wird meine Frustration ein kleines bisschen größer und ich kann es kaum erwarten in meine saubere und im Vergleich riesige Wohnung in Berlin zu ziehen. Die Mitbewohner sind dort auch tausend-mal besser 😛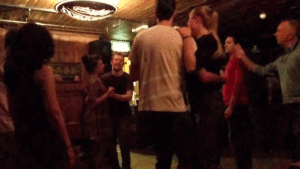 Da ich bald nach Hause fahre, habe ich natürlich versucht meine Zeit hier noch zu nutzen. Wie am Montag war ich auch am Mittwoch nochmals beim Irish dancing.
Am Dienstag habe ich noch Schulkameraden besucht und einen "Cocktailabend" veranstaltet, wobei es nicht viel mehr Auswahl als meinen mitgebrachten Pina Colada gab (an dessen Rezept ich noch etwas arbeiten muss). Donnerstag waren Tim und ich eingeladen mit unserem Unternehmen einen Trinken zu gehen. Es gibt im Moment direkt vor dem Rathaus einen "Continental Market", auf dem es zahlreiche Stände mit Speisen und Getränken aus aller Welt gibt. Wir saßen im deutschen Bierzelt, in dem Berliner Bier ausgeschenkt wurde. Es war eine sehr nette Runde! Danach wollte ein jüngerer Kollege noch unbedingt mit uns Feiern gehen. Darauf hatte ich an einem Donnerstag nicht sonderlich Lust, da wir am Freitag immer noch morgens auf Arbeit erscheinen sollten. Der Kollege war dummerweise aus dem Sales Team und wollte ein "Nein" nicht gelten lassen. So begann ein langer Abend, in dem ich versuchen musste irgendwie nach Hause zu kommen. Zwischendurch wurde ein Taxi Geisel gehalten, nur um mich dazu zu bewegen mitzukommen. Aber nach einer Weile schaffte ich es zu fliehen und noch ein bisschen Schlaf zu kriegen vor meinem letzten richtigen Arbeitstag.
Viel mussten Tim und ich nicht mehr erledigen. Hauptsächlich stellten wir sicher, dass alle unsere Aufgaben ordentlich an die betroffenen Leute übergeben waren. Von unserem Supervisor und der Geschäftsführung wurde uns noch eine richtig nette Karte übergeben. Mein Supervisor hat in meiner Karte geschrieben "You also now have friends for life in Belfast". Nach diesem rührenden Abschied waren leider viele Kollegen auf Meetings oder im Falle unseres Supervisors auf einem Konzert unterwegs, sodass unser geplantes Abschiedsmittagessen ausfallen musste. Tim und ich ließen dann zu zweit unsere Woche bei einem leckeren Essen ausklingen.
Am Abend war ich zum letzten Mal mit den anderen Deutschen unterwegs, die ich hier kennengelernt hatte. Diese mussten leider am Samstag schon wieder zurück nach Berlin. Wir waren auf einem sehr lustigen Pubcrawl unterwegs. Unter anderem lernten wir ein paar (stockbesoffene) Iren kennen, die uns ein paar typische Irische Phrasen beibrachten:
"Bout ye?" – "Hello, how are you doing?"
"Wind your neck in!" – "Calm down and shut up. You're wrong!"
Das Urban dictionary benutzt es so in einem Satz: "Dave, we've missed our exit thanks to your shit map reading, adding 20 miles to our journey, so wind your fucking neck in." Ääääh, Vorsicht. Strong language.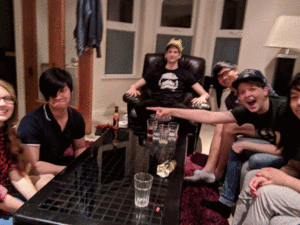 Wir waren so lange unterwegs bis die Pubs zu machten (was hier nicht so lang ist. Alle Pubs und Clubs machen so zwischen 1 und 2 zu). Nach einer vollen Woche und dem Pubcrawl war ich dementsprechend ziemlich kaputt und machte mir ein ruhiges Wochenende. Nur am Sonntag besuchte ich noch ein paar Schulkameraden für einen netten Spieleabend. Besonders viel Spaß machte "der große Dalmuti".