Halftime! It seemed logical to visit another city half way through my stay in Belfast. But first a quick summary of my week:
At work everything was still fine. Tim and I continued to work with Javascript and also got a new task: We are supposed to help upgrade a server for testing in the cloud to the newest version. But there is a twist. Instead of, well, upgrading we are supposed to create a new virtual server and copy the data there. Because all servers are virtual this can be easier sometimes. For now we are still trying to get it to work.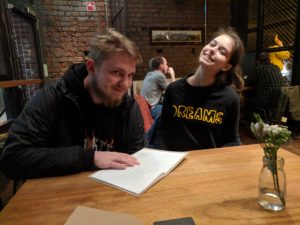 On Friday I went to the cinema with Jakob and his girlfriend to watch the new Avengers film. I was so impressed I'm going again. Maybe the reduced price of 3,5£ is a reason too 😀 Afterwards we went to the Pub Lavery's where we wanted to meet our English teacher, but he had already gone to bed. We stayed for a drink and then left as well.
On Saturday morning at 9'o'clock we started our journey on a bus to Dublin. The drive was fine, but not as beautiful as the drive to Giant's Causway. After our arrival we walked a bit through the city and admired our new environment. There is a noticeable difference between Dublin and Belfast. First and foremost Dublin has a lot more people in it. I like the architecture of Dublin more, but in return Belfast's streets are not as full and make sightseeing easier.
Our first stop was the Trinity college. They have a beautiful campus which probably makes a nice spot for a picnic. The main attraction for tourists is the Book of Kells, which is a Latin book from the 8th or 9th century. Wikipedia calls it "Ireland's finest national treasure". Because the queue was extremely long we thought it's better to spend our limited time elsewhere.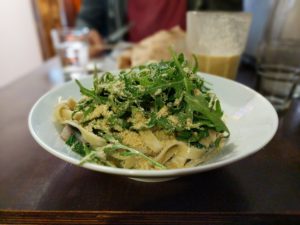 It was already lunch time and after a short walk through the city centre we split up to look for food. Giuliano and me went to a small place called Sova – Vegan Butcher in the south of the city. It was extremely delicious! I can't wait to go there again when I visit Dublin again with Kristina. Afterwards we met the rest of the group again at the very impressive St. Patrick's Cathedral. The whole day the weather was great. Still a bit on the cold side but the sun was shining constantly.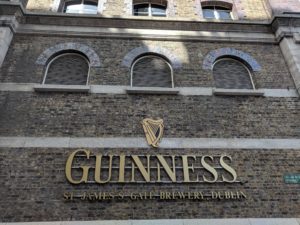 Next we visited the Guinness Brewery because someone thought it was a good idea *cough* Tim *cough*, where we stayed a short while to take pictures and then continued to two museums/exhibitions. First the Dublin Science Gallery could have been remarkable, but sadly the most interesting exhibitions were broken and there just wasn't much there. Lastly the Natural History museum left me wanting more as well. I completed two internships at the Natural History museum in Berlin and in my opinion it is much superior. But the humpback whale skeleton on the ceiling was very imposing.
At the end of the day and our trip we wanted to get some food as a group which was more difficult than we thought. In the (in)famous Temple Bar quarter there were already large crowds of people and the prices were astronomically high. A few streets away we tried to get a table at Zizzi's but it was already booked. Finally we got lucky at Nando's where we had delicious food.
I  had a really great day and am excited to maybe do it again in two weeks when Kristina is visiting me again!